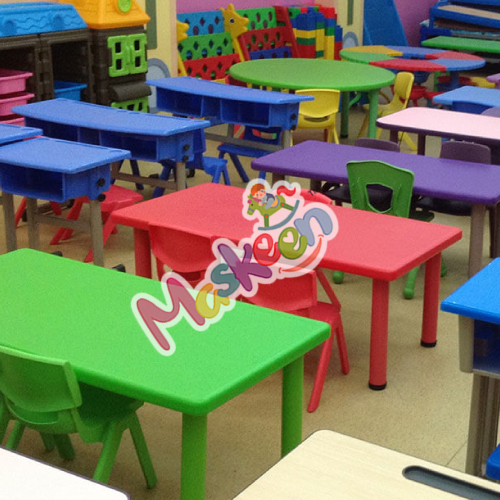 A classrooms appearance and feel may have a significant influence on a childs learning experience. Furniture is an essential component of any classroom, and the appropriate selection may help create a setting that is both useful and aesthetically attractive. Childrens plastic furniture is a common choice for classroom furniture. It enhances any classroom look with its brilliant colours and robust construction. As one of the leading Kids Plastic Furniture Manufacturers in Delhi, Maskeen Overseas will discuss how plastic furniture can enhance your little ones learning capabilities.
Benefits of Childrens Plastic Furniture:
There are various benefits to using kids plastic furniture in the classroom. One of the most significant benefits is its longevity. Plastic furniture, unlike conventional wooden furniture, can resist everyday wear and tear, making it an excellent investment for schools seeking long-lasting furniture.
Bright colours:
Children are naturally attracted to bright colours, so having colourful furniture in the classroom may assist in creating an engaging and dynamic learning environment. Plastic furniture comes in a variety of colours, ranging from bright primary hues to softer pastels, so you can easily choose furniture that suits the colour scheme of your classroom. As one of the most dependable School Plastic Chair Manufacturers in Delhi, Maskeen Overseas believes that plastic furniture can be beneficial for the classroom environment as it is lightweight and easy to move around. It also provides a comfortable seating area for children and can be sanitised easily. Furthermore, plastic furniture is also highly durable and has a longer lifespan than other types of furniture.
Plastic furniture is effortless to clean and maintain. Spills and spills are unavoidable in every classroom, but with plastic furniture, the mess is easily cleaned up with a moist towel. This may save you time and money on cleaning products while also keeping your classroom in pristine condition.
Kids Plastic Furniture Types:
In the classroom, there are numerous sorts of kids plastic furniture that may be employed. These are all available on Maskeen Overseas website also, they have a toys section as well. Here are the most common choices:
A Chair:
Plastic chairs are a flexible alternative that may be utilised in offices, tables, or even reading nooks. They come in many sizes and colours, making it simple to locate seats that are suitable for your school.
Tables:
Plastic tables are ideal for collaborative workspaces, creative projects, and snack time. They are available in a wide range of forms and sizes, allowing you to locate the perfect table for your school.
Storage:
Plastic storage containers are a practical and visually appealing method to keep your classroom organised. Books, painting materials, and even toys and games may be stored in them.
Shelving:
For exhibiting books or other school resources, plastic shelving is an excellent choice. You can select the ideal shelf unit to complement the aesthetic of your classroom.
There are a few things to consider while buying plastic furniture for your classroom:
Consider your pupils age and size first:
Ascertain that the furniture you choose is acceptable for their height and weight, as well as that it can fit their specific demands.
Consider your classrooms colour and design next. Choose furniture that complements your current decor, or go for a dramatic flash of colour to assist in creating a lively and exciting learning environment.