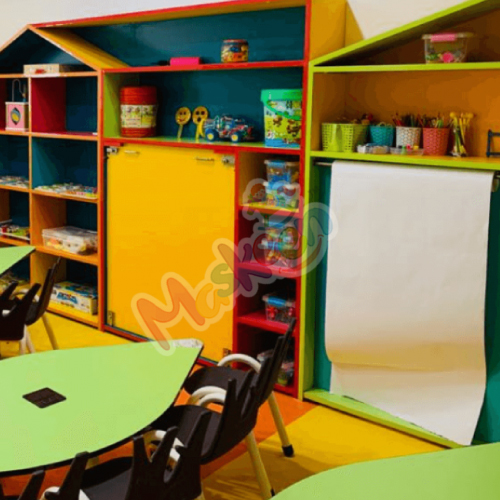 A school is not only made of Teachers, students, books, and bags. Or it is not only a concrete building. It consists of many things that are often ignored. There are numerous furnishing items that if the school ignores or neglects then there would be a compromise with the students, their parents, teachers as well as, most importantly the students' education.
Furthermore, if we look at the play equipment's significance, it is tremendous. Play equipment on the one hand helps students become aware of their physical abilities and also refresh their mind. On the other hand, comfort level is achieved by only well-built desks, chairs, and tables. These Preschool Furniture items are highly important and should be bought from top manufacturers like Maskeen Overseas. Further in the blog, we will discuss how we can make these things more appealing. A comfortable and safe seat will be beneficial for the student's overall learning and it will not affect their posture.
Physical health and activity are vitally important for mental wellness:
Exercise has been found in studies to deal with sadness and anxiety by releasing endorphin hormones that alleviate tension and pain. 10 percent of youths ages 5 to 16 have a mental health problem, and these figures are increasing year after year. As a result, movement and fitness are critical for both children and adults. These are beneficial in improving health and staying away from obesity. Children will enjoy their free time along with staying in good shape.
Consider investing in storage methods that allow you to maximize the available space:
There is no doubt that the revolutionary almirahs can easily replace ordinary storage units in the future. These are available to buy from the best Kindergarten Furniture Manufacturers. We also make benches that have decent storage that is enough to cater to the needs of a student. For locations with limited space, these storage options would make sense as they would be ideal for storing items. To maximize the use of space in school libraries, it might be desirable to employ stackable units to maximize space utilization. Furthermore, these structures do a great job not only at reducing space, but they are instrumental in inspiring the feeling of creativity in the child. 
Invest in color to make your things stand out and appealing:
It would be great if your school grounds could be given a new life. If you are thinking of purchasing one of our storage units, do not be afraid to go with some of the brightest colors available. Colored chairs, tables with storage, and almirahs are also available in yellow, green, blue, orange, and purple. It is believed that this solution might be suitable for students; let them be sprayed with a spray of color, who would then be stimulated to come up with creative ideas on the school's grounds; and perhaps you could do the same for your students.
Organized and coordinating Environment:
If you carefully arrange all the items in their proper places, you will be able to create a clutter-free environment in your classroom. And a clean environment is essential for kids. As a result, investing in the most suitable Nursery School Plastic Furniture would be the most efficient method. It is imperative that this practice is carried out not only by students but also by members of staff. This is a combination of characteristics that indirectly contribute to the development of an innovative seating solution on the school grounds. With colorful and intriguing seats and other furnishing options, this approach is sure to be fun and easy to encourage the next time it is followed in the future. This way students will be energized and become attached to the class directly and education indirectly.