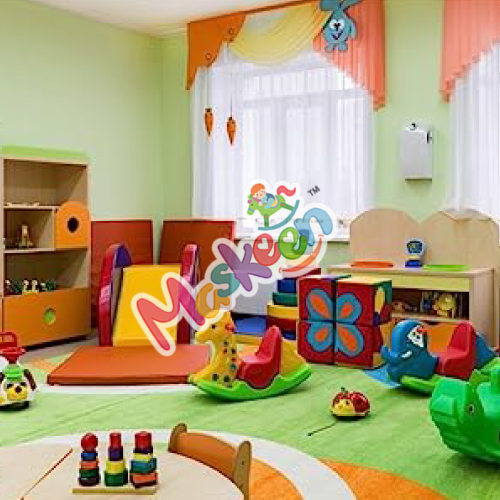 When designing a play school, it is essential to choose furniture that is fun, safe, and durable. Choose furniture that is lightweight, easy to clean, and has rounded edges to prevent injuries. Additionally, the furniture should be well-padded and comfortable to ensure that students are comfortable while they are learning. There is also the need for a designer to check that the furniture selected for the play school is suitable for the age range of the students. This will ensure that it lasts and is useful for a longer period of time. What tips can you provide that will help you create an inviting atmosphere at your play school? Here are a few things Maskeen Overseas wants you to think about:
Select A Trustable Furniture Provider:
In order to ensure the furniture lasts for a long time and is safe for students, choose a furniture provider who can be trustworthy and reliable. It is also critical to make sure that the furniture is age and size appropriate for the students. Additionally, it is wise to select furniture that is comfortable, durable, and aesthetically pleasing. You must consider investing in furniture offered by professional Nursery Furniture Manufacturers that are made with safe, non-toxic materials and is sized and shaped for children, to ensure their safety and comfort.
Furniture that is both appealing and functional should be chosen:
Choose furniture and accessories that are appropriate for each age group. Establish a space that allows for artistic pursuits such as painting, sketching, and construction. You should ensure that there is ample space for both teacher and children to sit comfortably. Create separate play areas for various activities. Make the play areas a focal point of attention by using vibrant colors, interesting textures, and playhouses.
Make use of outside areas by constructing swings, slides, and playhouses:
Create a welcoming atmosphere with comfortable seating, shaded areas, and a variety of toys that encourage children to be creative. Consider buying nursery furniture from reputable Kids Plastic Furniture Manufacturers that meet safety standards, allowing you to create an inviting, safe atmosphere for your students.
Include learning tools in the play school, including books and toys: 
To foster a love of learning in young children, Montessori toys are an excellent addition to any play school. Montessori toys are designed to engage children's senses, encourage exploration and discovery and help to develop motor skills. They also help children develop language skills and a sense of order. This is because Montessori toys are designed to be hands-on and interactive. They are also deliberately designed to be open-ended, with no one right answer, which contributes to fostering creativity and encourages children to think critically.
Offer storage options to maintain order in the play school:
These toys also help to cultivate problem-solving skills and curiosity and allow children to explore and learn on their own terms. Having storage options available helps to organize the play area, which encourages children to tidy up and clean up after themselves.
Verify that all furniture is sturdy and child-safe:
Having storage options available allows children to have designated places for their toys, which reduces clutter and helps children to stay organized. When furniture is sturdy and child-safe, it ensures that children will be safe while playing in the play area, and it also gives parents peace of mind.