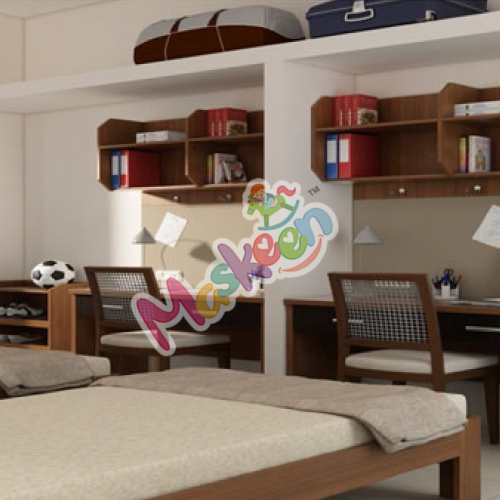 Hostel living brings out our true personality and provides us with highly significant skills that we will cherish for the rest of our life. Even though some factors have serious impacts, the majority of them are phenomenal and valuable. We learn about how to organize our belongings there so the hostel must invest only in top-quality and functional wardrobes. How can we select the wardrobe? We will know further so that you understand what qualities Hostel furniture Manufacturers in Delhi focus on.
A wardrobe in the school hostel unavoidably determines the mood and aesthetic magnificence. A wardrobe is an essential piece of furniture in a room that adds character; therefore, it must provide the best of both beauty and utility. When it comes to constructing your perfect wardrobe, there is a lot to cover, from choosing the proper sort of wardrobe that is suited for your usage to its appearance. In this blog by Maskeen Overseas, one of the finest Institutional Furniture Manufacturers in Delhi, you will learn about how to choose the best wardrobe for your school.
What should you think about when purchasing a wardrobe?
Not all wardrobes are the same. Each style of wardrobe offers a unique set of features. As a consequence, you should be aware of what you're searching for in the market. Here are a few things to think about when purchasing a wardrobe:
How much space do you have in your class or staffroom or wherever you want to keep it in the school?
Storage requirements
Finish
Size
Colour
Look and feel
Functionality And Outer Appearance:
While the functioning of a wardrobe is crucial, the exterior atmosphere of the wardrobe is as significant. Choose the look of the wardrobe depending on the atmosphere of the surrounding area. As the school area has to offer an inviting vibe, go for beautiful closets. If the school wants to offer a minimalistic atmosphere then go for clean lines and simple colours. Whatever you pick, make sure it blends in with the general vibe of your hostel room or library. College Furniture Manufacturers are the best to buy a wardrobe for the school hostel.
Type:
Currently, there are many kinds of wardrobes available on the market such as freestanding wardrobes that work without external support and enable mobility, and built-in wardrobes. A built-in wardrobe comes in a range of colours and patterns. Wardrobes are either carpenter-made or modular. While modular wardrobes are factory-made and come in conventional sizes, carpenter-made wardrobes provide greater customization, enabling you to experiment with factors such as design and style. However, for a hostel, you might look for durable furniture so that children can keep their belongings with ease and the wardrobe stays the same.
Size:
Determine the size of the wardrobe based on your needs and the number of users. Consider the room's height as well. It is also worth mentioning that the size of the wardrobe requires particular attention since it must fit exactly into the allowed space. Furthermore, the size and form of your wardrobe should complement the decor of the space. If the wardrobe is too tiny, storage may be hampered, and if it is too large, it will tower over other furniture and take up an excessive amount of room.
Surface Finish:
The surface finish of the wardrobe has a significant impact on its life. In general, laminates are a smart choice if you want a beautiful surface solution that also performs well. You may choose from a variety of designs, colours, and textures. Depending on your needs, you might pick digitally printed laminates or a basic wooden one. Wardrobe laminates are long-lasting and available in a variety of finishes like gloss, and matt. Antibacterial and scratch resistance are also available, making laminate sheets a genuinely lasting surface alternative.
Whether you want to buy a wardrobe for school or a hostel, just keep in mind that a hostel is a home for students, so you must invest only in a long-lasting, beautiful, and functional wardrobe.