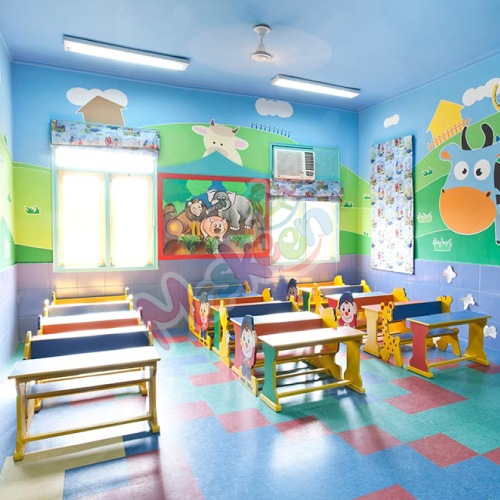 Furniture items such as chairs, tables, and desks for kids are not only required to have quality and comfort but they are also expected to have an appealing look. Top-quality Play School Furniture can be found in different colors and designs at Maskeen Overseas, one of the leading manufacturers of furniture for schools. The kids always want to look for something interesting in their life and the area around them. Their inquisitiveness keeps them motivated to find and explore something new around them. It is important to note that kids are small in size, and that is why they should have plenty of space around them to move freely. To keep the place more spacious and clean, we will mention some ways to do it.
Are you finding it challenging to encourage your students to move around in your class?
Do you have any ideas about where you can hide anything when extra chairs are taking up more space?
There is nothing that can be thrown away because you need everything. It is common to see your classroom crammed with things unarranged all the time. As a result, we have compiled a few tips to help you declutter your classroom for your convenience.
Ideas for saving space in the classroom:
Using a few tips and techniques, you have the chance to maximize the available space and enjoy your classroom without daily stress and without wishing it was bigger and more spacious. 
First of all, furnishings should be Lightweight:
Ensure your School Furniture is lightweight in order to make it easier to move. Moreover, according to price, it should have the ability to sustain for years. It is a good idea to use folding furniture in your classroom. It is a good idea to find a few rooms or nooks in your room that you don't use all the time so that you can declutter it. If you have foldable or extended furniture such as a table, folding chairs, or a desk, consider storing it in this space. We usually do not use all the available chairs in the room. So those which are not being used can be stacked and put in the corner. Whether you are placing them in front of a wall or behind another piece of furniture, it is best to put them in the unused space.
It is a good idea to make use of the storage space behind the doors:
The door serves a number of functions in addition to its primary function of security. Putting a few hooks at the back of the door can help you declutter the room by simply hanging chairs on the hooks to declutter the space. In addition to storing chairs, you will be able to keep many other items behind them in the vertical storage system.
Invest in Kindergarten Furniture with storage space:
It is a good idea to make use of the storage space under the furniture. It simply increases the height of your bench or desk by an inch, which can provide you with more storage space below. It can help you maintain a dust-free and tidy case system by maintaining a clean environment in your classroom.
Encourage kids to use storage to keep the place clean:
The curtain can be used to separate an area that is cluttered by using it to separate two spaces. If you want to create a clean environment, all you want to do is pull the curtains. You may conceal your children's belongings behind a lovely curtain. There's nothing wrong with hiding unorganized items. Otherwise, you can use the storage of a bench. Please encourage them to use the storage available on a bench.